Online registration for the 2019 Cache Gran Fondo is now open. We welcome all past and future attendees to register early for the best pricing, please check your e-mail for special promotion for returning riders, (you may have to check your spam or promotions folders in Gmail).
General Info
The Cache Gran Fondo is an annual Italian-style ride in Cache Valley in Northern Utah. The Cache Gran Fondo occurs on the 2nd Saturday of every July and riders can ride either on a 34 mile, 50 mile, 70 mile or 105 mile route. As one of the fastest-growing and largest rides in Utah, our focus has always been to create a fun, rewarding and challenging event. Our riders enjoy well-stocked support stations, chances to win great prizes, enjoy a great breakfast and lunch, receive big-blingy finisher medals, and have a fun day riding with 1000+ other inspiring cyclists. Race teams, corporate teams, families & neighborhood groups, couples and individuals all converge in Cache Valley for this big, fun, ride.
Every year we also offer a limited-edition cycling jersey for only $40. Below is an example of the 2019 jersey. For more information, visit our STORE page and to view sizing charts and information about our 2019 Jersey supplier HyperThreads. Jerseys can be added at registration as well.
2019 limited-edition jersey and bibs. Our sponsor logos added to the back sections on the side panels, pockets and our jersey sponsor, (ARS) will be displayed on the back between the shoulders. Jerseys are sold at a low cost of only $40, and the 2018 sold out 4 weeks before the event so make sure to add one to your order this year! bibs are only $50, which is a great price for these HyperThreads Competition men's and women's bibs. Note: They are also designed as a USA kit to be used to represent USA at the UCI Gran Fondo World Championships (USA Residents) or a great souvenir for all other riders. Jerseys courtesy of Hyperthreads - Ogden, UT
NEW for 2019 - Individual Time Trial Friday Evening
As part of the UCI Gran Fondo World Championships, we are offering another way for our riders to race for a chance to represent their country at the World Championships. Our ITT will be held on Friday evening and the course will be no more than 11 miles. We will start each rider at 30 second increments, professional timing will be provided, and prizes will be awarded that evening at the lake park at First Dam.
Until July 12th $40. Onsite July 12th $50
UCI GFWS Age Groups: 19 – 34y, 35 – 39y, 40 – 44y, 45 – 49y, 50 – 54y, 55 – 59y, 60 – 64y, 65-69y, 70+y.
Juniors $23* (all-dates, all juniors Under 23-years of age, only $23)

For the Time Trial on Friday evening from 4:00pm to 6:30pm, we have been allowed to permit the first 5 miles of beautiful Logan Canyon. The road has a mostly wide-shoulder, and on most evenings there is a slight thermal that blows UP the canyon. The Start/Finish and awards ceremony, will be held at the park at 1st Dam. The Logan Race Club is the official club and sponsor for the time trial event. Below is the list of the age group and currently registered racers as for 1am 7/11/2019.
https://www.mapmyride.com/routes/view/2336903050
Packet Pick-Up
Packet pickup will be held in the same places as in previous years;
For our friends down south: THURSDAY July 11th from 4pm-8pm at Bountiful Bikes. (2482 S Main St, Woods Cross, UT)
For all others: FRIDAY July 12th from 12 noon - 8pm at Al's Sporting goods (1050 North Main St, Logan, Utah)
Please follow us on Facebook at https://www.facebook.com/CacheGranFondo
The Breakfast
Prior to the 2019 Cache Gran Fondo on Saturday morning, riders will be offered a complimentary breakfast, courtesy of our title sponsors, Intermountain Logan Regional Hospital and Intermountain Orthopedics and Sports Medicine. This healthy breakfast is available from 6:00 to 6:45 a.m. at the start line. Come a bit early and get fueled up for the big ride, and there will also be items you can take with you.
Start Times 2019
We will start the riders in 5 waves (EACH with *Pilot Car or Sheriff motorcycle)
–6:35 a.m. | 100 mile UCI Gran Fondo World Championship competitors (20-27mph+) *Italian Sports Car to lead out
–6:40 a.m. | 100 mile Class B RIDERS (Average speed 19-25mph+)
–6:45 a.m. | 100 mile Class C RIDERS (Average flat speed 15-20+)
–6:50 a.m. | 70 mile RIDERS
–6:55 a.m. | 50 & 35 mile RIDERS
The Ride
All riders need to be ready to ride by 6:30 a.m. on Saturday, July 13, from Logan Regional Hospital's southwest parking lot located at 500 East, 1400 North, in Logan, Utah. Riders can choose from either a 35 mile, 50 mile, 70 mile or 105-mile course through Cache Valley. The finish line for all distances is located in at a NEW VENUE in North Logan on a closed of block at about 2800 North next to the Green Canyon High School and the new RSL training facility. North Logan City closes the entire street for the event, and Green Canyon High provides a larger venue for more food vendors, post ride services and a much closer pedal back to the start line. This will be the same finish where the pros will complete the 2019 Tour of Utah, Stage 1.
For UCI Competitive prizes, your competing age is the age you will be on December 31st of the current year we are in. (example: If you compete on July 13th and are 44 years old on the day of the race, and your birthday is Nov 3rd, your racing age would be 45). Prizes will be awarded for 1st, 2nd and 3rd in the following categories, (note these were 2018 categories, may be subject to change with UCI qualifications) ;
Age groups: The event will offer results in 8 different age groups, for both women and men:
Age groups: 19 – 34y, 35 – 39y, 40 – 44y, 45 – 49y, 50 – 54y, 55 – 59y, 60 – 64y, 65-69y, 70+y. (Age groups are defined by the rider's age on December 31st of that year.)
For our 70+ category, if more than 6 riders register, the tickets granted for The World Championships are also given to this age category. Note: * In The World Championships, an additional jersey and medals will only be given to the winners of these categories if more than 6 riders register.
NOTE: For our U19 riders, (Junior (Male) 14-18 and Junior (Female) 14-18), UCI does not have a category, but the Gran Fondo National Series will apply and we will award this category if more than 6 riders compete in each category.
* Note: ALL 1st finishers on the 105-mile course and KOM/QOM will receive a official UCI Gran Fondo World Series jersey, and 1st, 2nd and 3rd place will receive a special winners medal.
The 50-Mile GF CLASSIC Course
50-mile Course https://ridewithgps.com/routes/30511808
In 2019, we have a unique opportunity to both follow the same route as the Tour of Utah Stage 1, and to finish our riders at the exact same location where the pros will finish on August 13th. Our 50-mile riders will be covering about 90% of the exact same roads as the Tour of Utah, but the course is fairly similar to the past. We will not be stopping in Mendon this year, but hope to return to that great support station venue in the future. PLEASE make sure to stop in Newton a second time as you come around Little Mountain before heading back into North Logan for the finish!
Our 70-mile course will add an additional loop to the 50-mile course, and send riders AROUND Trenton, to Lewiston north and then back south to Newton. The loop will be a very flat and open course through the farm-lands of northern Cache Valley. Based on early registration numbers, this new route was very popular in 2018, and we anticipate even more riders in 2019.
In 2017, we reversed the 100-mile course to provide more safe passage over Valley View highway, and to avoid a mid-day southerly wind from Malad to Riverside. The feedback was overwhelming positive, AND that it is a hard century. The back-side of Weston Canyon is a steady climb with a steep summit, and it was a challenge for some riders. In 2018, we added more hydro and fuel options and the early riding out of Logan and through the Bear River area will also have less traffic. Like last year, we will have pilot cars from the start to the Cache/Box Elder county line). See Strava link;
The Finish, Lunch and the Expo
After completing your desired distance, all participants are invited to participate in the Cache Gran Fondo's Gran Feed and Outdoor Expo sponsored by the Logan Downtown Alliance. The Gran Feed will be held on 2800 North between 200 and 400 East. North Logan City will close the entire street for Saturday and welcome the Gran Fondo riders to eat, meet local vendors, win prizes as part of the ride, listen to local bands and enjoy a great summer afternoon. There will be activities for people of all ages.
Last year (2018) the Cache Valley Mountain Bike Team provided a Bike Valet to all our riders at the finish line, so you can check your bike in, enjoy the expo and your lunch, and have your bike watched over in a secure area. We pay for their set-up, but it is a fundraiser for the club so please bring a few extra dollar to tip the valets for the service.
Photos: Start line, on-course, and finish line/podium
Each year we hire a professional photographer who works very hard to capture our riders at the start line, on the course and at the finish line. ALL PHOTOS are free-of-charge to our riders, and as you can see from the photo gallery link below, there are hundreds of great images for you to download, share and keep as a reminder of your time at the Cache Gran Fondo.
Free to view, download and share.
PHOTOS by Gary Bird Photography. Gary can also professionally print them for a small fee.
Gallery: https://www.gbirdphoto.com/Cycling/2018-07-14-Cache-Gran-Fondo
No password needed
As always, you can 1 click to download all to your computer or individually.
To download the images royalty free:
Parking
There are plenty of places to park at both the start and finish line, but there are also a lot of free public parking between the start and finish line. Many riders like to park at the finish, so they don't have to get back on the bike after the ride. Many options are available. Please note that the finish line is about 5 blocks away from the start line. Please enter parking areas by driving east until you get to 600 East. 400 East will be closed off to vehicles on race day morning, please enter from 600 east, AND no parking is allowed by the finish line, but rather in the designated parking spots (see map).
Start line AND Finish line parking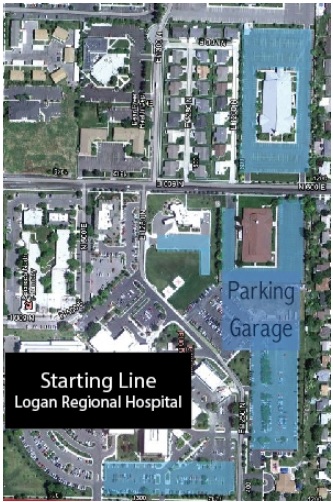 Prizes
ALL riders are eligible to win many different prizes, in addition to the race category prizes. The set of rider prizes is still being finalized, but we will have bike jerseys and many different camping items from CampChef, gift cards and great rider gifts from Al's Sporting Goods, a cycling items from The Sportsman and Joyride Bikes, and Malouf Sleep products ( a fan favorite in 2018!). A tradition at Cache Gran Fondo is EVERYBODY is eligible to win regardless of their finish time, (but we also throw prizes at the winners too!). Many riders will walk away with great prizes in addition to the finisher gifts. Some examples are; Oldest and youngest riders, farthest distance travelled, at least one person from each state/country represented will be prized, 'sweeper' awards for the slower finishers, Coolest Jersey, Coolest Bike, Most Inspirational, and over 20 'courtesy' awards for riders who make other rider's experiences better and more safe and enjoyable, (Ride Respect Awards).
Traffic Laws and Ground Rules
Riders must ride no more than two abreast. Ride two abreast only if the shoulder is wide enough.

Ride on the right shoulder of the road, AND NEVER CROSS THE YELLOW CENTER LINE.

Obey all traffic signs and signals

Keep your bike equipped with two water bottles, spare tubes, and basic repair equipment. Although we will have bike mechanics throughout the course, you are responsible for repairing your tire and bike should you experience mechanical errors.

Cross railroad tracks perpendicularly and with CAUTION

Watch out for road hazards

Helmets are required

Smile and wave

Please thank the volunteers
Lodging Options
We are pleased to announce our 2018/2019 Hotel Sponsor and partner, Marriott Springhill Suites at the Riverwoods Center. For more information about the hotel, CLICK HERE. If you are read to reserve one of the special blocks of rooms, Book your group rate for Cache Gran Fondo
SpringHill Suites by Marriott®
With gorgeous views of the Wasatch Mountain range the SpringHill Suites® by Marriott
at The Riverwoods is the perfect place to relax. A 2017 complete hotel renovation
assures our guests that they will enjoy the most modern and up to date furnishings
available with all furniture designed exclusively for Springhill Suites by West Elm. Each of
the 115 guest suites offer luxury bedding, wireless high-speed internet, flat-screen
satellite television, two station bathrooms and a separate comfortable seating area. And
don't forget, breakfast is complimentary every day in the lobby.
We suggest reserving quickly, rooms around the weekend of the event fill-up quickly. We also have many other great hotels in the area, many of them are listed below;
Camping
Training
If this is your first time riding 100-miles, you may be wondering how to train for this event. We found this training schedule particularly helpful for new riders who are taking on the Cache Gran Fondo 100-mile challenge.
Registration Transfer and Deferment
We understand that events can happen that prevent you from riding with us on July 13th after registering for the event. We are happy to help you transfer your registration to a different rider, or defer your ride until 2020 for a $10 fee.
Frequently Asked Questions
Will there be a photographer on the course?
We will hire several photographers to document the 2019 ride, as we have for the 2013-2018 rides All photos from the ride will be provided for you free of charge. It's one way we want to thank you for your support and for riding with us. See this link below or CLICK HERE so view the 1000+ images from 2017, the gallery has nearly 1 million views!
http://www.gbirdphoto.com/Events/2017-07-08-Cache-Gran-Fondo/
Can a family member or friend pick up my packet for me?
We are sorry, but our insurance with USA Cycling requires a photo ID and wet-ink signature on all waivers. We also need you to verify your emergency contact name and phone number.
Where do the proceeds of the event go?
The Cache Gran Fondo was originally established as an event to fund special cancer screenings for uninsured women in the area. 5 years ago, the event was assumed by Headspin events, a for-profit event company. Headspin Events (HSpin Events Llc), is committed to growing and improving the event, and since 2013, proceeds of the event have been re-invested to grow and support the event. Each year we match rider donations to cancer services in Cache Valley, and we also support and sponsor other great local charities & events like Common Ground, Bike Utah, The Family Place, Cache Valley Mountain Bike team, local boy scout groups, youth sports clubs and others.
How do I update my registration information?
If you need to update your registration information, please let us know by contacting us here.
How many riders do you expect on the ride this year?
We expect to see 1500 riders ride the Cache Gran Fondo in 2019, for example in 2018 we had 1300 registered riders releasing in 6 waves from the start line. This year we will add more waves for the UCI Gran Fondo World Championship qualifier on our 112-mile course. As in the past, in order to spread out that many riders, we will be releasing riders in waives based on categories, and our pilot car company, Heritage Dodge will be showing off some of their new models as our pace/pilot cars and trucks.
Is there a lottery to get into the ride?
There is currently no lottery system to get into the ride. We will be accepting all registrations we receive between now and ride day.
What is available at the aid stations?
Aid stations will be stocked with the minimum of water, Gatorade and Pepsi products and supplements, fresh fruit, and quick-grab snacks. We will also have muffins, granola bars, candy, and other food at many stations.
Who do I contact for lost/found items?
We will have a lost/found booth at the finish line where items can be claimed, or contact the race director at oldhamtroy@gmail.com. Items that aren't claimed by 5 p.m. on July 15th, 2019 will be donated to Deseret Industries the following week.
How late will the expo be open?
The Gran Feed is scheduled to go until 3:30 p.m. on Saturday, July 13th.